Fitflops for Women- And Men Too!
I have called this post "Fitflops for Women" as it is in fact mainly women who tend to wear them but Fitflop also do a smaller range of shoes for men too, and I would not like to exclude men from the joy of wearing Fitflops!
And it is a joy, no doubt about that!
I first discovered Fitflops many years ago, and it was love at first wear!!!

Now, I wear Fitflops all and every day, in summer and winter. I have Fitflops that will see me through all occasions, except the most formal ones, and I value the style and comfort that they give me.
For those of you who have never come across Fitflops before, well, I hope I can show you just how different and amazing they are!
You may ask what is so amazing about Flipflops? And why would they have a place on a website about Natural Remedies?
This will all become clear as you read on!
More than likely you have some flipflops in your wardrobe – the floppy plastic kind that you wear for the beach or pool. If so, you are probably wondering why I am raving about another kind of flipflop.
Well, I'm Not!
The only resemblance between those floppy kinds of footwear and Fitflops is that some of the styles are open sandals with a toe thong, but by no means all of the styles have that.
The very first time that you put on a pair of Fitflops, you will just know how different they are!
OK, How Are They Different?
First of all, they are incredibly comfortable!
You could walk for miles on them, and you would still feel comfortable!
Unlike plastic flipflops, you never feel that your foot is going to slide off the edge – in fact your foot feels really supported, due to the way that the shoe and the sole are made.
Take a look at a Fitflop label:
Here is what Fitflop have to say about their shoes. All Fitflops have:
our standard Microwobbleboard™ midsole
APMA* Seal of Acceptance, for footwear found to promote good foot health
biomechanically engineered, comfortable flip flop
seamless built-in arch contourslip-resistant rubber outsole
Does that sound like the flipflops you can buy at the beach? Of course not!
And There Are So Very Many Styles To Choose From!
Why I Love My Fitflops
Apart from the amazing styles and comfort, Fitflops really did give me back my life!
Some years ago, I had a series of operations on the tendons in my ankle. I don't intend to go into details, but after the plaster was finally removed, I was left with a very weak ankle which made walking difficult and uncomfortable, and almost impossible with bare feet!
My heal was so sore and tender that I could not bear to wear any kind of shoe.
Luckily for me, I had my Fitflop toe-post sandals! (The ones in the image here are my brand new ones all ready to wear this summer!)
The Fitflops did their magic!
One of the great things about the fantastic micro-wobble sole which every pair of Fitflops have, the wearing of them will help to strengthen your calf muscles, and after about six months in plaster, mine were very weak.
But after an incredibly short time, my calf muscles were much stronger and so was my ankle, and I was able to walk a fair distance comfortably. In fact, when I went for my next check-up with my hospital Consultant, he was amazed at my progress!! He said that he would recommend Fitflops to all his orthopaedic patients!
In fact, Fitflop do claim that by wearing their shoes you are giving your lower body a work-out!
Fitflops also, incredibly for a shoe, do in fact help to alleviate back pain! As I have already stated, they are so much more than just a shoe!
Ever since then, I have been a devoted Fitflop user! Even now, I still find it uncomfortable to walk barefoot or to wear "normal" shoes. Lucky for me then, that there are so very many different styles to choose from!
Fitflops For Women
At the moment, there are 383 different styles of Fitflops for Women! The size range is from size3-9, so they are suitable for older children too.
Sandals
There are 118 different styles of toe-post sandals. ranging from those you could wear for everyday to glamorous ones which would beautifully take you through lovely summer evenings.
There is also a range of toe-post Fitflops specifically designed for beach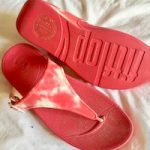 wear. They are waterproof, with the same great comfortable soles and support as all Fitflops, making "normal" rubber flipflops completely redundant!
In the image opposite you can see my beach Fitflops with the same superb soles that all Fitflops have
Then there is a range of 65 slip-on sandals, again with some which are more for everyday wear, but there are also some more glamorous designs.
To see the whole range of  if you are in the U.S.A. click here
To see the whole range if you are in the U.K. click here.
Shoes
Fitflop make all kinds of shoes, including:
Loafers or Trainers,
Ballerina style shoes,
Work shoes,
High-top Sneakers
Low-top Sneakers.
They also have a range of ridiculously comfortable Slippers!
All have the same amazing microwobble supportive sole, and the extent of the ranges has to be seen to be believed!
If you are in the U.S.A. you can see the whole range of Fitflop shoes for Women
If you are in the U.K. you can see them here
Boots
I love Fiflop Boots too!
You can choose from
High Boots
Ankle Boots with and without zips
Chelsea Boots
Buckle Boots
Sporty Sneaker Boots
Canvas Boots
All of the boots are Leather, with the obvious exception of the canvas boots, and come in a choice of colours.
The range of "Mukluk" boots have a lovely, cosy, furry lining which will take you through the coldest day.
The Fitflop Boots that I have shown here are just two examples of the range, and they are from my own wardrobe. It is impossible to show all the great styles available in this small space, but if you are in the U.S.A. you can see the complete range of Fitflop Boots for Women.
Here is the  link for Fitflop Boots for Women in the U.K.
So I'm sure you can see that there are Fitflops for wearing all through the year, so there is rarely any reason to go without their many benefits.
Fitflops For Men
I would hate for men to feel left out from the great experience of wearing Fitflops, and there is absolutely no reason why they should!
The Fitflops for Men range is definitely for leisure wear, but there are still a good many styles to choose from. They come in a range of colours to suit all tastes. The sizes range from 7-12.
These include:
High-top Sneakers
Low-top Sneakers
Sporty Loafers
Skate Shoes
Toe-post sandals
Slip-on Sandals
Back-strap Sandals
Clogs
Here is a link to the complete range of range of Fitflops  for Men available in the United States.
If you are in the U.K. here is the link to the entire range of Fitflops  for Men
Fitflops For Healthy Feet!
I do hope that you can now see why Fitflops are such an amazing brand and why I love them so very much!
They will help to keep your feet, and in fact your whole body core, fit and healthy whatever activity you take part in.
I really hope that you will give them a try, and if you like them – and why would you not?!? – then do your friends a favour and tell them about them too! I have lost cont of the number of my friends and acquaintances who have followed my recommendation to try Fitflops, and have loved them!
I simply cannot praise Fitflops too highly!
I do hope that you have found this information useful, and that it will help you.
As usual, I would be very happy to answer any questions you may have if it is within my ability.
If you do have any questions, please feel free to leave them in the Comments box below and I will answer them as soon as I possibly can.
Equally, if you have any other opinions or comments I would be very happy to see them in the comments box, and of course, I will answer them.
I will regularly be adding posts to this website about the various remedies and health information, and if you would like to be notified when a new post is published, then please leave your email address in the box provided at the side of this post, or in the Comments box.
Very many thanks for dropping by, and I do hope that you will come back again 🙂
For your convenience, here again are the links to the complete ranges of Fitflops.
For those of you in the U.S.A. :
For those of you in the U.K. :
Fitflop Sandals For women
Fitflop Shoes for Women
Fitflop Slippers
Fitflop Boots for Women
Fitflop Sandals for Men