10x Pure CBD Oil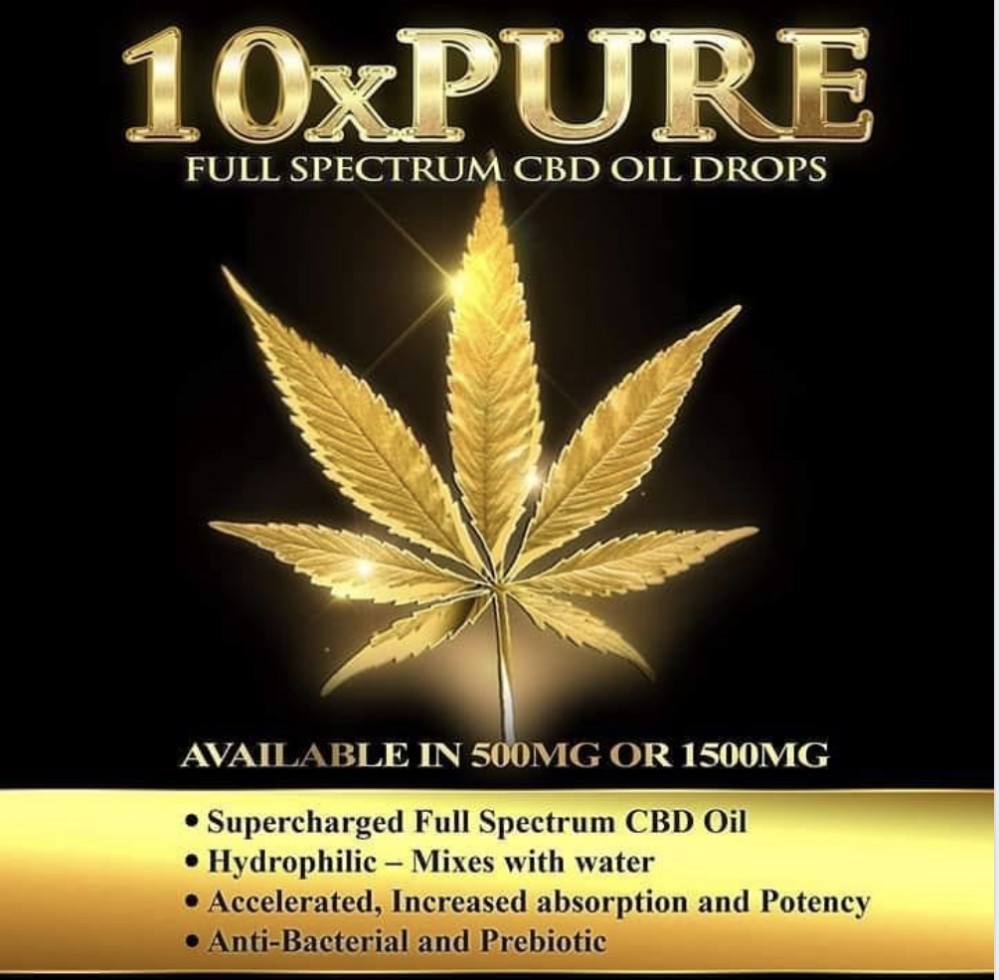 Today I would like to tell you about CTFO 10x Pure CBD Oil.
I am sure that by now you have heard all about CBD Oil, and how it can help with so many health conditions in so many ways.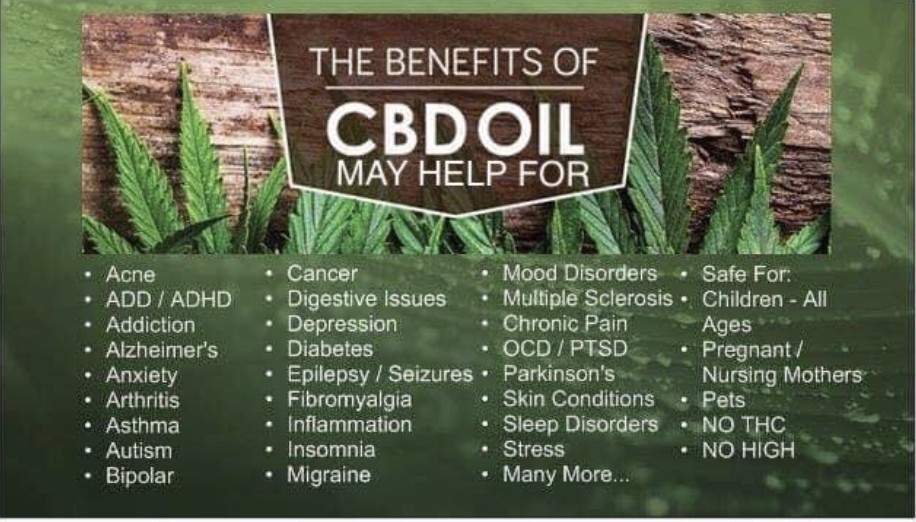 And I am sure that you also know by now that CTFO provides the very best CBD Oil that can be bought anywhere. You can find out more about CTFO here
But you may not have yet heard about
CTFO 10x Pure Full Spectrum Hemp-Derived CBD Oil Drops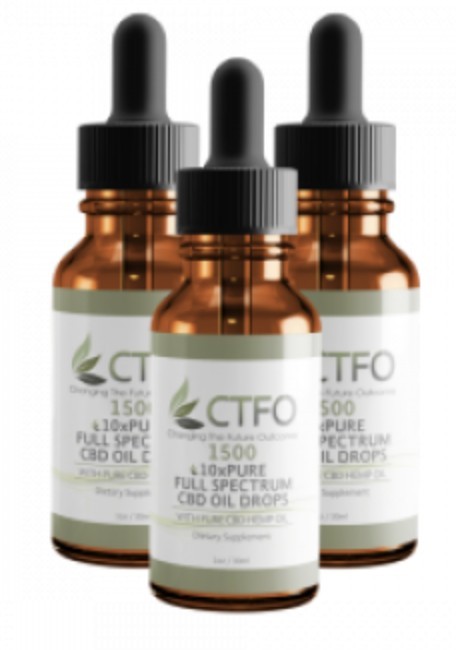 CTFO 10x Pure is the latest addition to CTFO's range of products, and it is unique to CTFO. It is an extremely exciting discovery which will be of so much help to so many people. It delivers CBDA to the body.  10X Pure comes in three strengths: 500mg, 100mg and 1500mg. Only you can decide which is the best strength for you – I would always advise anyone to start with the lower strength and then increase it if you feel you need it, although if your symptoms are really severe, then you may well need the stronger ones.
"CBD is created when the naturally occurring CBDA (cannabidiolic acid) is processed especially when heated during extraction. CBDA has been found to have more anti-inflammatory properties than CBD as it is a potent inhibitor of COX2 which is the same mode of action as non-steroidal anti-inflammatory.
In early testing, "10xPURE" Supercharged CBD Oil has been shown to maintain and protect the integrity of CBDA, which has been shown to be more effective than CBD. No matter how good the quality of a product, without penetration and absorption of the key ingredients, you can end up with a wasteful application and reduced potency. "10xPURE" Supercharged CBD Oil is the most exciting new relief agent for those suffering from pain and inflammation, or if you just want to naturally detoxify."
Video about CTFO 10X Pure CBD Oil
I thought you may like to see this brand new video all about 10 Pure.

Here is a non-scientific explanation of exactly how CTFO 10X Pure CBD Oil works. 
These are not my own words, but they are very worth reading:
What needs to be understood is that when the CBDA is passing through the body it is naturally being converted (decarboxylated) into CBD.
There are two reason this happens:
1.Your body temperature 
2.Your body naturally being acidic
When 10xPure was being tested for Bioavailability (absorption), the scientists discovered something amazing that happens with CBDA in the body. 
These studies (which David D'Arcangelo is working) will show 10xPure products keep the integrity of the CBDA. This allows CBDA to reach the target in the body. When it reaches the target it gets their as CBDA.
In the scientific study, 10xPure was able to maintain its integrity while passing through the kidney and liver cells. Do a google search on the health benefits of CBDA and you will be blow away.
Just because some companies bottle says CBDA on it, what is important to know is it is very likely to be destroyed before reaching the target. With our patented covalent bonding SuperCharged 10xPure, we are able to protect the CBDA from going through the damaging process.
In addition to the HISTORIC finding on CBDA, remember the other benefits of 10xPure….
10x Pure is a revolutionary way to deliver broad spectrum CBD molecules / oil to the body by using 10x supercharged oxygenated oil. It is PATENTED & CTFO has EXCLUSIVE. Blows away any competitor.
CBD Oil consists of cannabinoids which are NOT water soluble. The process of using Nano technology to assist in making the oil water soluble, offered by competitors, "chops" the molecules of CBD. This actually damages the molecules. 10x Pure does NOT damage the molecules. They are all intact, and bioavailable.
Supercharged oxygenated oil LOVES water, and mixes will with it. Since water is the main constituent of blood, the 10x Pure process allows us to transport natural, non-processed broad spectrum CBD throughout the bloodstream. This results in increased absorption and potency! Let me say that again. his results in increased absorption and potency! And remember, this is a patented product, and CTFO has an exclusive agreement with the company; we are the ONLY network marketing company offering this technology in our oil!
What happens to potency / absorption?
Well, the 500 mg potency with 10x Pure is approximately equivalent to taking a dose of 3,000 – 5,000 mg!
The 1500 mg potency is approximately equivalent to taking a dose of 9,000 – 15,00 mg
The 10x Pure process is real. Without getting scientific, it provides a WATER delivery vehicle, as the CBD molecules are actually attracted to water.
10XPure is hydrophilic – having a strong affinity for water; tending to dissolve in, mix with, or be wetted by water. chemical science, chemistry – the science of matter; the branch of the natural sciences dealing with the composition of substances and their properties and reactions.
Jeremy Ducharme (CEO of 10xPure) recently said that water soluble is not about absorption or penetration. What makes 10XPure so special is that it is HYDROPHILIC.
Click on the image below to find out more about this great product, and the Science behind it.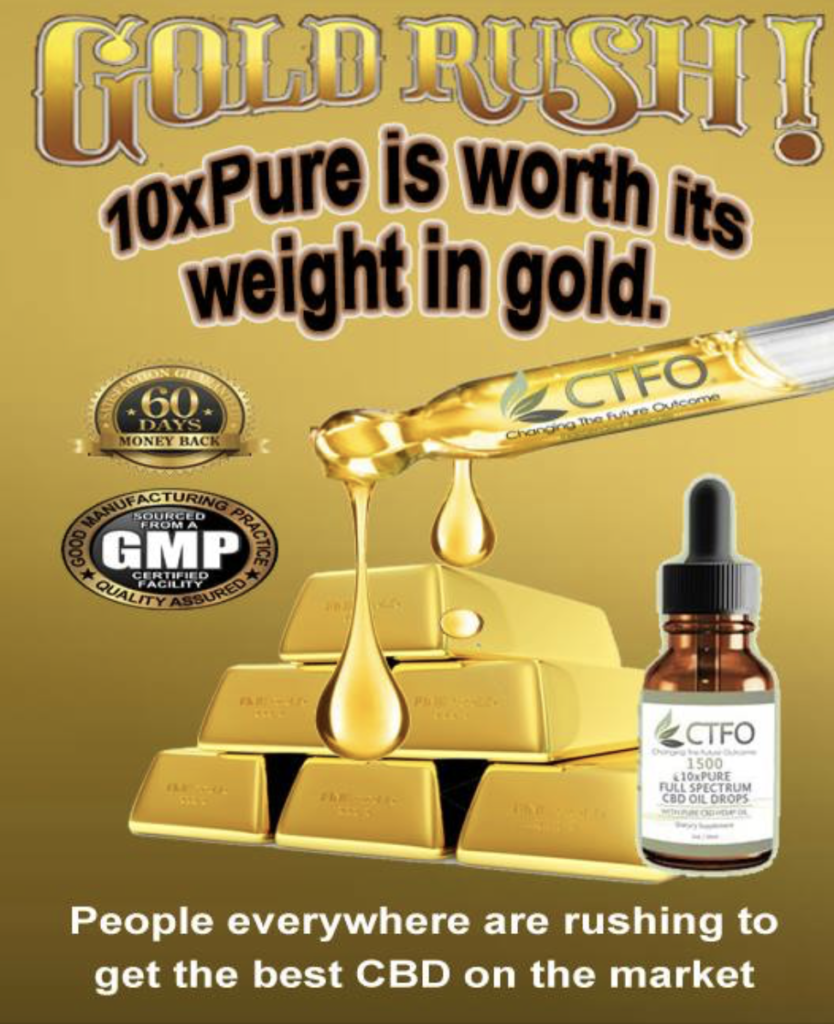 It is important to realise that there are companies who sell products labelled as CBDA but those products do not have the ability to deliver CBDA in an undamaged form.
Why Use 10xPure CBD Oil
Don't get me wrong, all kinds of CBD Oils are really great, and may effectively help with so very many health conditions as shown at the top of the page. I would probably advise most people to begin their journey with CBD Oil by taking either the Full Spectrum CTFO CBD Oil, or CBD Isolate Oil. Those should help with most minor health conditions.
It is important to use the Oils in the correct way. The drops should be taken sub-lingually and kept under the tongue for a minimum of 20 seconds, more if possible. This enables the oil to be more easily absorbed by the body.
But some people with more serious conditions would probably benefit by taking the supercharged 10x CTFO CBD Oil, which, as already stated, delivers the added benefit of CBDA in its undamaged form to all affected areas. This added strength can particularly help with all kinds of pain and inflammation.
Why should we worry about Inflammation?

Inflammation is a contributory factor to a far larger number of medical conditions than I, for one, ever realised! It is by no means limited to the surface swellings which follow injuries to the outer body.
For example, Asthma causes inflamed airways which produce its symptoms, and according to Wikipedia,chronic inflammation is a contributory factor in up to 25% of Cancers!
You can read more about Inflammation here:
https://en.wikipedia.org/wiki/Inflammation

So it is very possible that we may be suffering from inflammation without even realising it.
And I don't know about you, but I would far rather do my very best to prevent a condition before it is obvious, than to wait for it to appear and then try to cure it!
This is where 10xPure CBD Oil comes into its own. Inflammation control is its speciality and it can really help with it, and with all kinds of pain whether or not that pain is associated with Inflammation.
10xPure CBD Oil which delivers CBDA is absolutely the Gold Standard of CBD Oils, and it is uniquely available from CTFO. CTFO 10X Pure Full Spectrum CBD Oil is the only CBD Oil which is capable of delivering CDBA to the body in undamaged form, due to the unIque way in which it is made.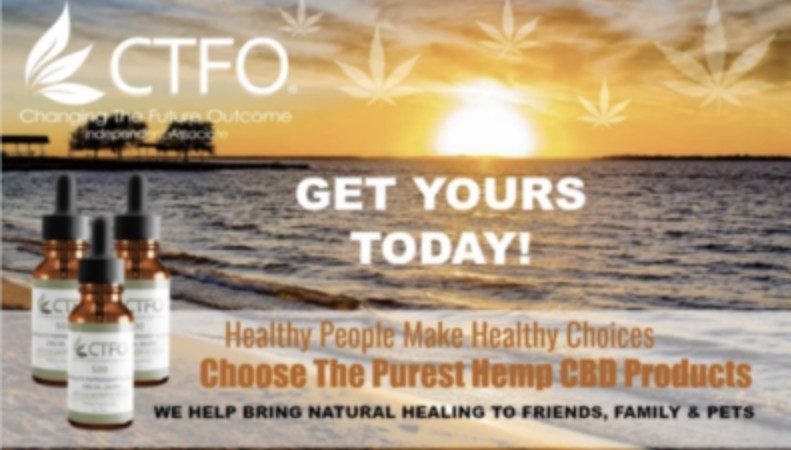 It is a patented product, so no other company is able to sell it.

But don't just take my word for it!
Testimonial
So many people are saying how much 10X Pure CBD Oil has helped them.
Here is an amazing testimonial from someone on Facebook who gave permission for the conversation to be shared: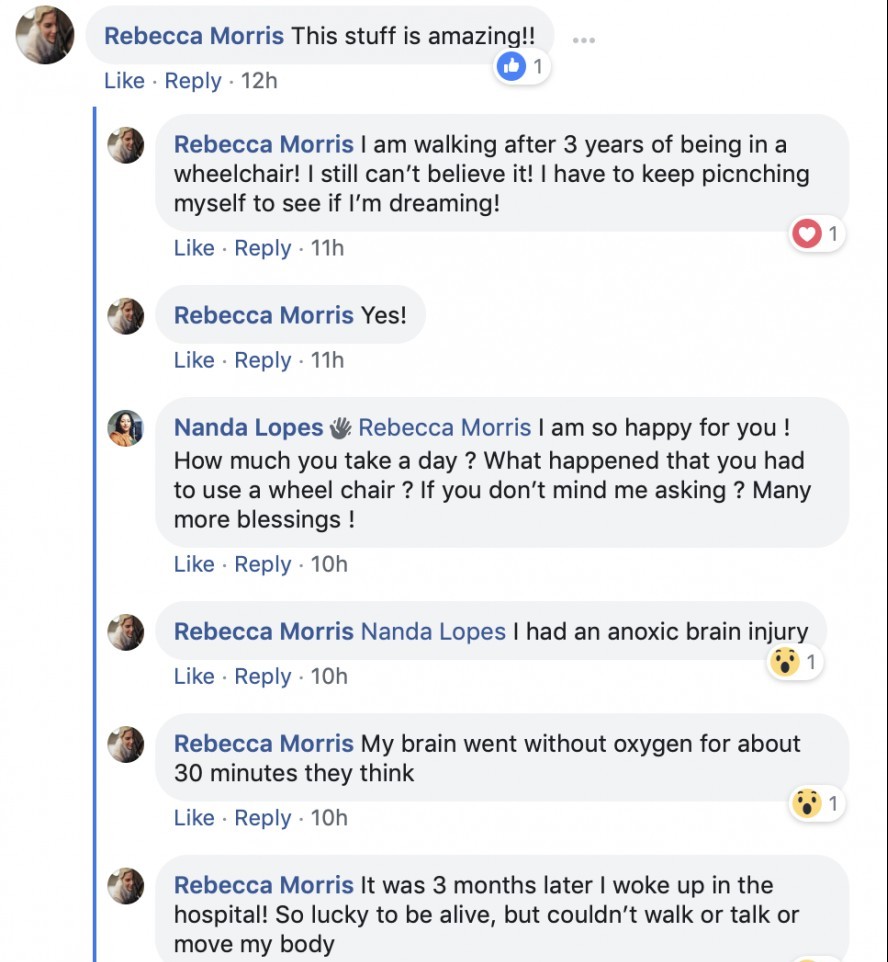 Truly, that speaks for itself.
And there are so many more testimonials on the Facebook page.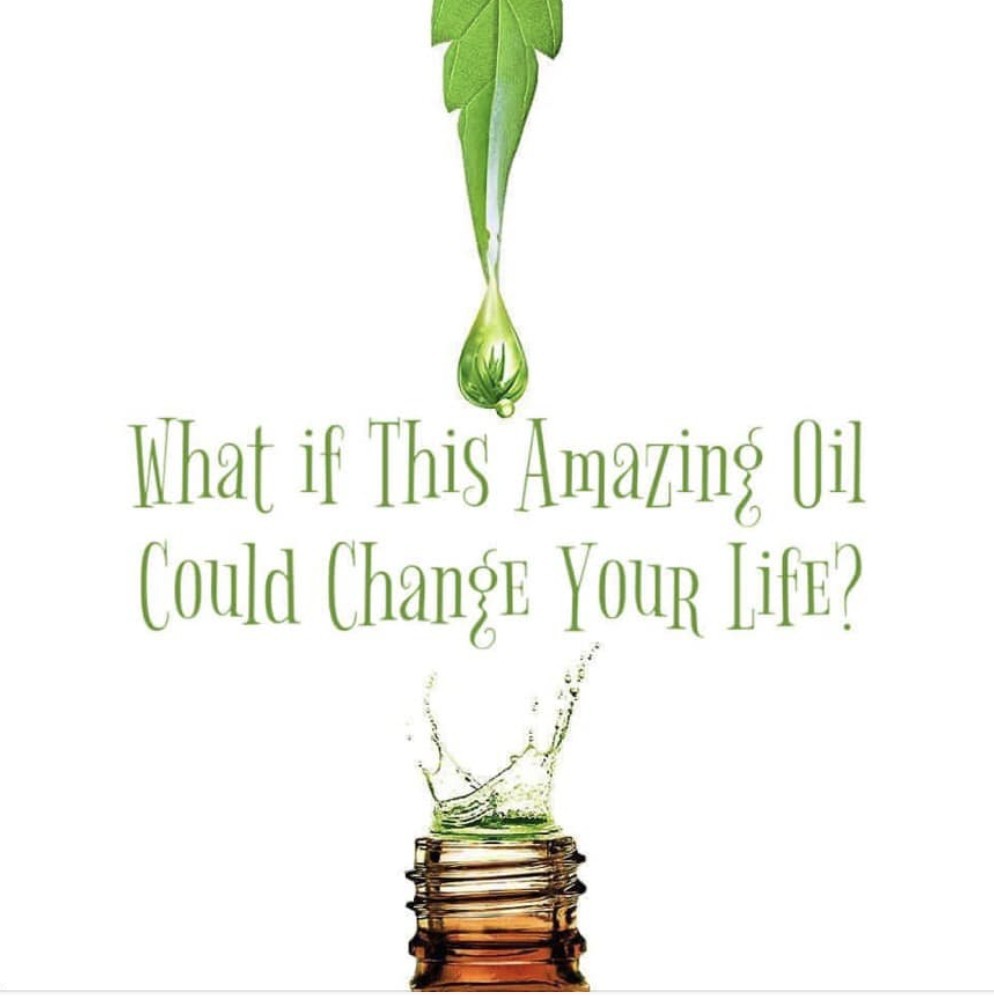 I am sure that everyone knows someone who could benefit from taking 10X Pure CBD Oil and I do hope that you will do them a favour and tell them about it!
If you would like to visit the website, you can do so here.
Thank you so much for dropping by.