Benefits Of CTFO CBD Oil
There are so very many health benefits of CTFO CBD Oil, so if you have come to this post to find out just what they are, then you have definitely come to the right place! It is a very hot topic at the moment, and it seems as though everyone is talking about it.
How can it be possible that just a few drops of this Oil can help with so many conditions?
Well of course, I cannot prove that to you – the only person who can do that is you yourself, simply by taking them regularly. It will probably take a while to really feel the effects, although many people have reported that they feel better almost immediately.
So why have we never really heard very much about it before now?
The reason for that is that it is only very recently that it has become legal to make CBD Oil, but it is now available in a number of countries, and it is possible to have it shipped to most countries.
Many people confuse the Hemp and the Cannabis plants, hence the worry about the legality of using it. But although they are the same family, they are in fact very different. Hemp Oil contains none of the hallucinogenic properties (THC) of Cannabis and that is why CBD (Hemp) Oil has now been legalised.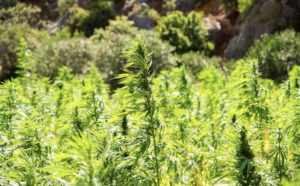 Hemp is an extremely sustainable and fast-growing plant. It takes just four months from planting to maturity.
CBD Oil can help just about everyone, as I hope you will see as you read on.
Why Is CBD Oil Good For You?
Below is a really interesting video which you are most welcome to watch if you have the time.
Did you know that Inside the human body, there's something called the endocannabinoid system that has receptors spread throughout the brain.
When these receptors are activated, they enable two-way communication between body systems.CBD is just one of over 85 cannabinoids that have been identified in the cannabis plant.
Clinical reports have shown little to no side effects and a lack of psycho-active effects.
So here is a brief overview of the benefits, and I will be going into more details later on in this post:

CBD Oil has been shown to
reduce vomiting & nausea
suppress muscle spasms
reduce seizures & convulsions.
Promote relaxation and overall health
relieve anxiety
reduce cravings
aid in digestion
support optimal immune function and the regeneration of healthy cells
Where to Buy CDB Oil
It is necessary to point out that there are very many companies which market CDB Oil, and not all of the oils are made to the same standard, and therefore will not give the same benefits as those which are made to the highest standards.

Some manufacturers use metals in the extraction of the oils, whereas CTFO CBD Oil is extracted using CO2 (Carbon Dioxide)
So you need to be very careful where you buy it from.
The Company which I would recommend is
and here is why.
What Is CTFO CBD Oil?
CBD Oil is a completely natural supplement.
CTFO CBD Oil is made from 100% Organic Hemp which is grown especially for the Company in the USA.
It is made from NON-GMO, PESTICIDE FREE, CO2 Extracted Hemp Oil using only organic ingredients. All products are manufactured in the USA in a registered GMP (Good Management Practice), cruelty-free facility using only the best, highest quality, purest Organic Hemp, and no high heat processing that reduces the potency or efficacy of the CBD is used.
CTFO CBD Oil is a combination of both the CBD Isolate (or Extract) along with the Full Spectrum Whole Plant Hemp Oil.
This gives  a much higher potency of CBD Oil while maintaining over 120 other cannabinoids, all of which have additional healing benefits.
There are more than 400 phytonutrients that exist in hemp plants. CTFO's extraction technology allows them to extract all of these nutrients, without using any heat or harmful solvents. The result is a whole food with exceptional nutritional and healing qualities – probably the very best food supplement that you could buy.
CBD has been known to support healthy blood sugar levels, promote healthy energy levels, relieve anxiety, aid in digestion, support optimal immune function and the regeneration of healthy cells, and promote a sense of serenity and overall well-being.
It is also an antioxidant, and contains antibiotic and pro-biotic properties.
So you're getting the highest quality, purest CBD, plus over 400 phytonutrients, in a naturally synergistic, easy-to-use and easy-to-absorb form.
That is why I would recommend
You can choose from three types of CBD Oil which are available in all four strengths.
Full Spectrum Oil use the whole Hemp plant giving a high potency of CBD together with 120 other cannabinoids, all of which have additional healing benefits. There is less than 0.3% THC in the Full Spectrum Oil, regardless of the CBD strength.
CBD Isolate Oil contains no THC but has all the other benefits, and is best for anyone who may need to have drug tests due to their occupation.
These are small bottles of liquid high-potency, Pure Hemp Oil, sometimes called tinctures.
CTFO CBDA 10x Pure Full Spectrum Hemp-derived drops
CBD is created when the naturally occurring CBDA (cannabidiolic acid) is processed, especially when heated during extraction.
CBDA has been found to have more anti-inflammatory properties than CBD as it is a potent inhibitor of COX2 which is the same mode of action as non-steroidal anti-inflammatory.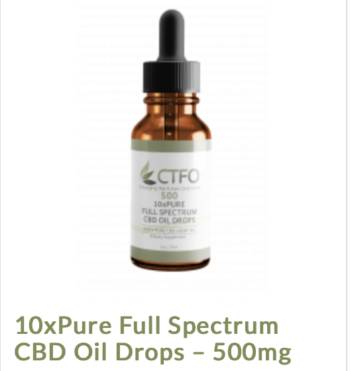 In early testing, "10xPURE" Supercharged CBD Oil has been shown to maintain and protect the integrity of CBDA, which has been shown to be more effective than CBD
"10xPURE" Supercharged CBD Oil is the most exciting new relief agent for those suffering from pain and inflammation, or if you just want to naturally detoxify.
"10xPURE" is only available through CTFO!
10x PURE Gold 
Super 1000mg
This is the latest addition to CTFO's range of CBD drops.
It is even more effective at helping to prevent and control pain and inflammation, and it is actually receiving rave reports from everyone who has tried it.
The following video explains more about it, and from personal experience I really do recommend it.
CTFO Presents 10xPURE Gold Super 1000 from CTFO Communications on Vimeo.
How many drops should I take?
Here is the recommended dosage for CTFO CBD drops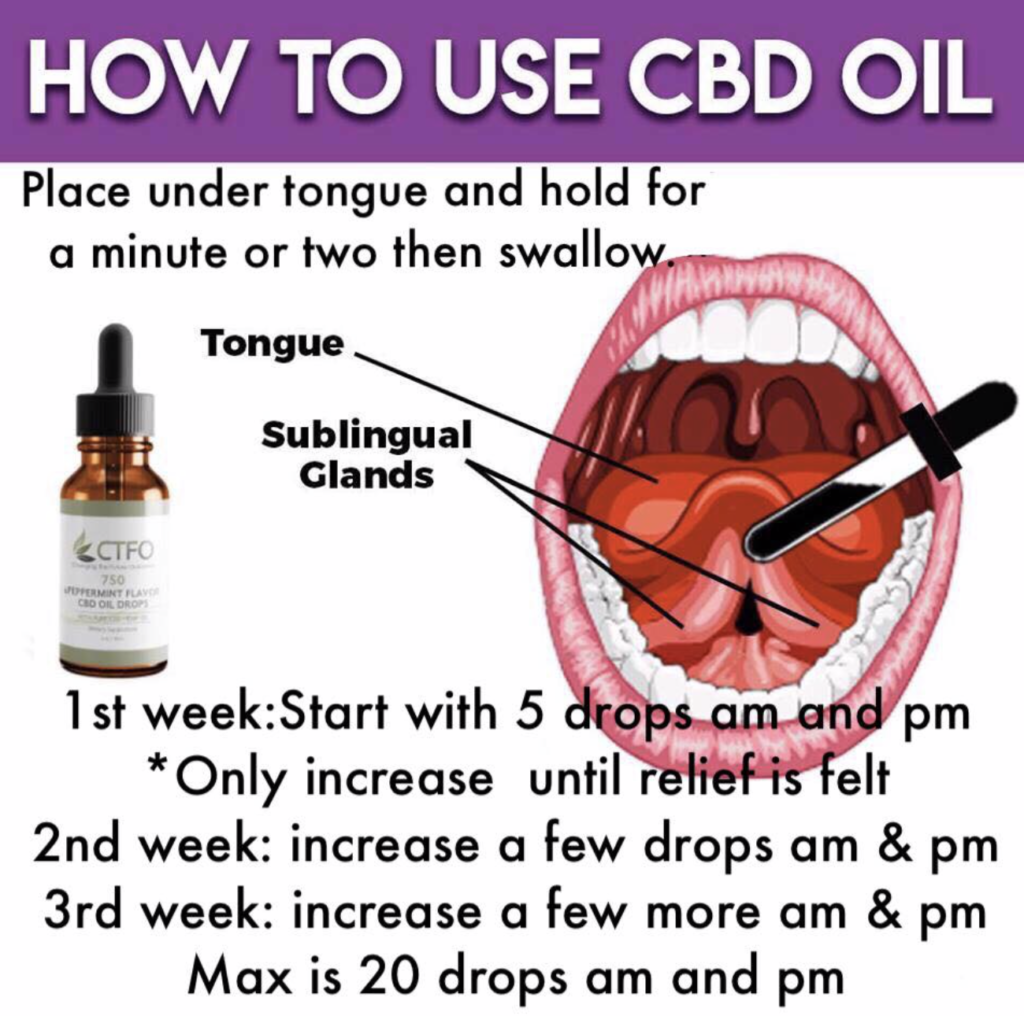 They are taken by dropping the drops  of oil under your tongue once in the morning and once again in the evening. Many people report that the best way to take the oils is to start off with a smaller dose in the first week, and increase them as shown above in the second and third week , and so on, but never exceeding the maximum dose of 20 drops am and pm.
NB. The Above information is not for the 10x Drops, (CTFO CBDA 10x Pure Full spectrum Hemp-derived drops), which are obviously stronger, and therefore the dose. should be adjusted accordingly. Start by taking 2 or 3 drops in the first week, then increase the dose by 1 or 2 drops each week until you find that you have found the correct dose for you.
So the secret with both kinds of drops is to start slowly, and let your body tell you what you need!
There are four different potencies of CTFO CBD Oil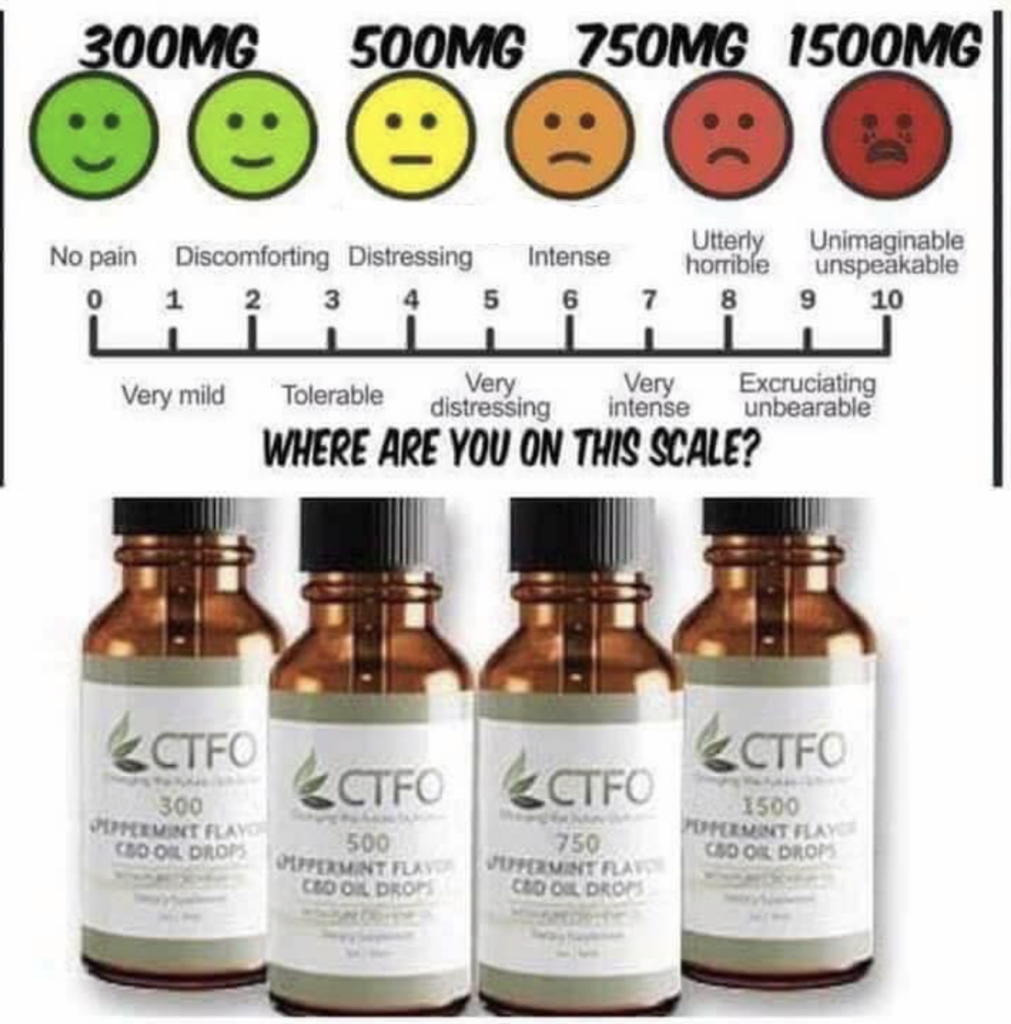 The 300mg drops are for those looking to maintain optimal health.
The 500mg drops are for those looking for a slightly higher-level CBD oil to stimulate optimal health.
The 750mg drops are for those looking for even a higher-level of CBD oil to maintain healthy immune function.
The 1500mg drops are the highest level of CBD oil to support the body's antiviral and natural healing capabilities.

All CBD Oil products are sold with a 60-Day Money Back Guarantee which is always honoured by CTFO.

So Who Needs CBD Oil?
In my opinion, absolutely everyone can benefit from Taking CBD Oil!
Everyone I know who now takes CBD Oil regularly says that their general health and sense of well-being has improved immensely.
They say that they are sleeping much better than they were and that their stress levels are far lower!
Please remember that every human being is different, and therefore some people will take longer to feel the benefits of taking the oil than will others.
Most people say that within 6-8 weeks of starting the drops they see their health improve beyond their wildest dreams!
To recap the acknowledged Benefits, CBD Oil can help to
Support a healthy blood sugar level
Support optimal cardiovascular health
Promote a healthy weight level
Support cartilage and joint function
Maintain a healthy immune system
Promote healthy energy levels
Promote healthy skin
Promote healthy sleep
Support optimal digestive function
Help maintain healthy cholesterol levels
Antioxidants help to reduce free radicals, promoting healthy cellular functionality
Promote a sense of well-being
Promote and maintain normal cardiac function

WOW!!!
It really does sound like magic, doesn't it?!?
But its not magic, just a truly amazing Superfood Supplement.
So as I said, CBD Oil can help absolutely everyone, and I really can't think of anyone at all who would not benefit by taking it as a supplement!
And remember, all products are backed by a 60-Day Money Back Guarantee.
There are three ways to buy CTFO CBD Oil:
As a Retail Customer paying the full Retail Price.
As a Preferred Customer.                                                                                             Preferred Customers are given their own free personalised website where they can find out more about the products and purchase them at a rate which is about 30% lower than Retail Price
As an Associate.                                                                                                               Associates, or Affiliates, are given two free personalised websites which they can use to introduce other people who are interested in becoming Customers or Associates. Associates can use the websites to build their own CTFO businesses. Not only do they also get a 30% Discount on all products, but they also get commission on any products bought by people they have introduced.
So which method is right for you?
If you would like to find out more about CTFO you are very welcome to read this article which I wrote about what is CTFO and CBD Oil.
I do hope that you will decide to try CTFO CBD Oil for yourself, and if you have any questions or comments, I would love you to leave them in the Comments box below, and I will reply to you as soon as I possibly can.
Very many thanks for reading this.
Till next time